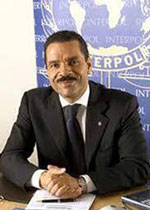 Ronald K. Noble is a Partner with Freeh Sporkin & Sullivan LLP. He is also the founder of RKN Global DWC-LLC, a risk management and business development firm enhancing the security of countries, their citizens, and businesses.
Between 2000-2014, Noble was elected three times to serve as INTERPOL Secretary General. He was elected two times unanimously, and he became the first official to visit all of its 190 member countries. He transformed INTERPOL into a global, 24/7 enterprise–regularly deploying Incident Response Teams (IRTs) worldwide to confront serious crimes, terrorist attacks, and natural disasters.
Between 1993-1996, Noble served as Assistant Secretary and then Under Secretary for Enforcement of the US Treasury Department, with direct responsibility for the US Secret Service, US Customs Service, FinCEN, the Bureau of Alcohol Tobacco & Firearms, the Office of Foreign Assets Control (OFAC), and other agencies. He was unanimously confirmed as Treasury Assistant Secretary by a Democrat-controlled U.S. Senate in 1993 and then as Treasury Under Secretary by a Republican-controlled U.S. Senate in 1995. Upon his departure, he received the U.S. Treasury Department's highest award – the Alexander Hamilton medal.
Between 1996 and 2014, Noble was also a law professor at New York University; he became a fully tenured professor in 1999. Between 1984 and 1989, Noble served first as an Assistant US Attorney for the Eastern District of Pennsylvania and then served as a Chief of Staff and Deputy Assistant Attorney General in the U.S. Department of Justice's Criminal Division.
Noble received his BA from the University of New Hampshire and Juris Doctorate from Stanford Law School. He served as Articles Editor on the Stanford Law Review and was elected President of his graduating class in 1982.
Noble was named to France's Legion of Honor, knighted by the Vatican and received high honors from several countries. He received the U.S. Department of Homeland Security's highest honor in November 2014 and was awarded the Ellis Island Medal of Honor in June 2016.
Noble is married to Marjam Lindsbro and has one son, Maximillian.